Beautiful Business Intelligence Just for Architects
Get ready for the all-new and more-powerful ArchiOffice 2017! The latest version is jam-packed with over 50 new features designed to make your time and expense tracking more efficient, and improve your project management workflow. It empowers you to work smarter and be more productive.
Elevate Your Project Management to a New Level
---
Earned Value Analysis
(P,E)
The Project Tasks screen now allows you to see, side-by-side, the percentage progress of your tasks compared to the percentage of the fee or budget that has been invoiced. This way, you can quickly understand if your invoiced values are lagging behind your earned value or not.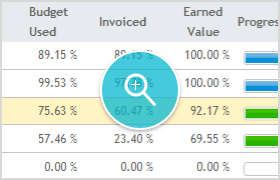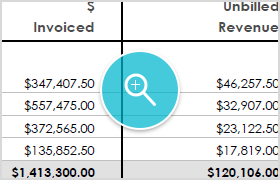 Earned Value Chart and Report
(P,E)
In ArchiOffice 2017, we've made it easy for you to understand the earned value of your projects. The Dashboard and Projects module both have an Earned Value chart. We've also included a new Earned Value report, which not only shows you the earned value for each project and phase, but also tells you the value of the unbilled revenue.
Track Probability for RFP Projects
(P,E)
In ArchiOffice 2017, we've added a Probability field to the projects that are set as RFP (Request for Proposal). Using custom reports, you can also take advantage of this feature by projecting future revenue based on the value and probability of RFP projects.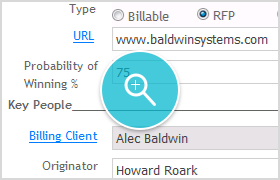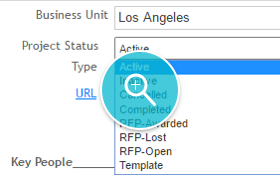 Warning Notification when Changing Project Status
(P,E)
If you decide to change the status of an active project, ArchiOffice 2017 warns you if there are any existing time or expense records that have not been invoiced. This means firms are notified about unbilled records and do not risk losing that potential revenue before closing a project.
Easily Update Active Projects with Default Job Codes
(P,E)
If your firm updates the Preferences > Projects with new Job Codes, you can now easily add the new codes to all active projects. This way, you don't have to manually add them to each project one-by-one.
Link Web Pages to Projects
(P,E)
Many firms create web pages for their projects or want to link a project to a client's website. In ArchiOffice 2017, you can add a website URL for a project in the Projects > Details screen.
Simplify Your Time and Expense Tracking
---
Attach Expense Receipts to Invoices
(E)
When you attach a scanned image of an invoice or receipt to your expense records, you now have the option to include a copy of the image when creating an invoice. Supported file types include GIF, JPEG or PNG.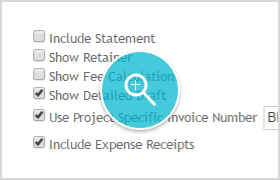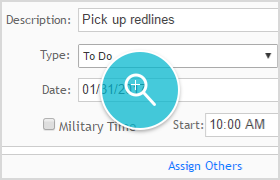 Create Time Entries from Calendar Events or To-Do Items
(P,E)
When you create time entries from your calendar events, ArchiOffice 2017 allows you to add a Description and, if the project uses Tasks for Timecard, select from any pending tasks.
Enhanced Search Options for Time and Expense Records
(P,E)
We've added more fields to the Search screen, allowing you to find the information you need faster. For example, you can now search for records based on the total value of the time or expense entry. You can also search based on the bill or cost rates.
Work Smarter, Not Harder
---
Enhanced Color Cues for Client Payment Status
(P,E)
This year, we've modified the colors in the Contact List screen: red means the client has a past due invoice; yellow means the client owes you money but the invoices are not past due; green means the client is paid in full or does not owe you any money. And if you move your cursor over them, ArchiOffice displays text showing you the amount of money the client owes your firm. Furthermore, you can see this color status in the Billing check box when you open the detail of any client.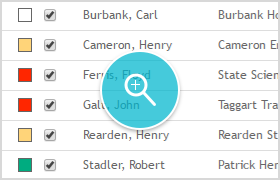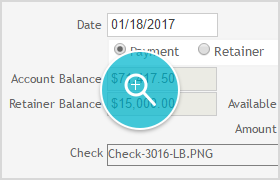 Link Scanned Checks to Transactions
(P,E)
In ArchiOffice 2017, you can now attach files to a payment transaction. If you like to scan your client's checks before depositing them, this new feature allows you to store the scanned images with the actual transactions.
Smart and Intuitive Cost Rate System
(P,E)
In ArchiOffice 2017, you can enter your staff's salary rate (i.e, $20/hr), Cost Rate Multiplier (i.e, 2.85), and then ArchiOffice calculates their Effective Cost Rate. Whenever you modify their salary, their Effective Cost Rate gets updated automatically.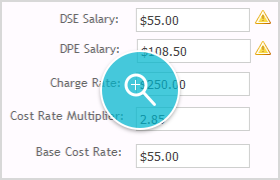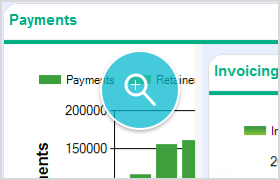 Smarter Dashboard Widgets
(P,E)
We've enhanced some dashboard widgets so they include totals when appropriate. For example, the Invoicing Chart displays the total invoiced values for the specified date range. The Payments widget includes totals for payments, retainers, as well as a grand total.
Relative Date Ranges for Billing Analysis
(P,E)
We've enhanced the Billing module filters to allow you to set date ranges by relative dates rather than manually selecting the start and end dates. For example, you can now set the screen to display records for this month, this quarter, this year or past 12 months.
Show Retainer Payments on Invoices without Showing Project Balance
(P,E)
You now have the ability to display any retainer payments made while also showing your clients the current invoice balance. This new feature gives you greater flexibility as to what information you want to show or hide on your invoices.
Pro Enterpise only feature